St. Mary's Parish Church Dungarvan and COVID-19 Regulations
PLEASE NOTE: The Parish Church is open for the celebration of public Masses and Masses continue to be broadcast on 98.5FM.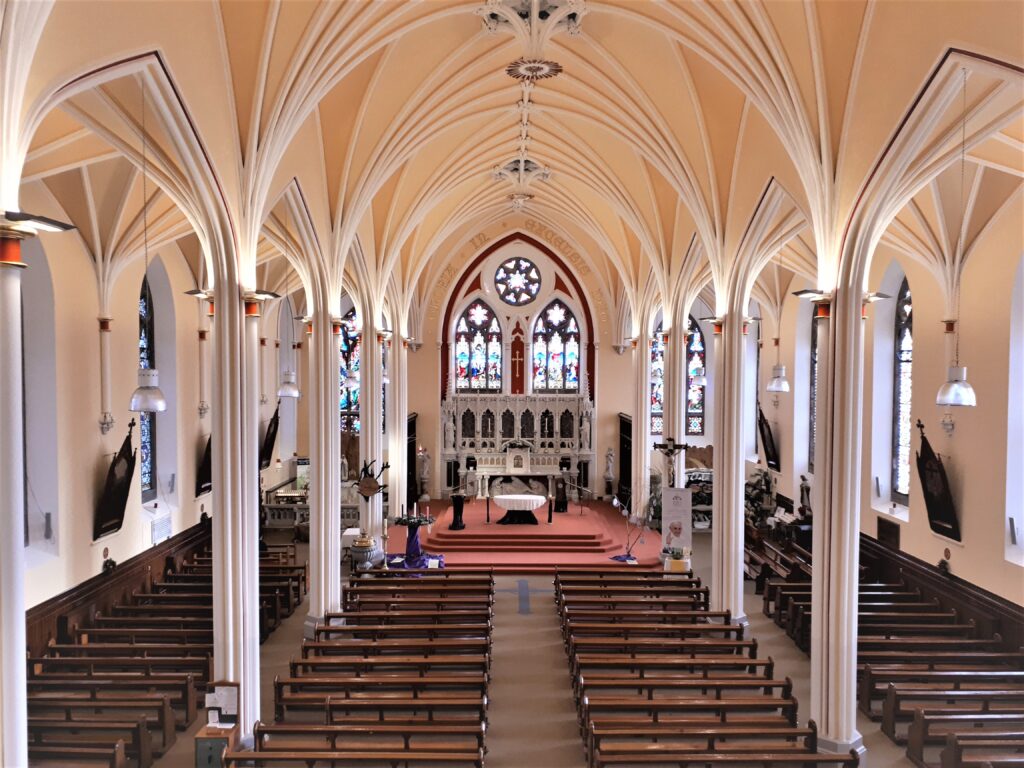 Mass Times
Monday to Friday – 9.30am Mass
Saturday – 7.30pm Vigil Mass (Please note: There will be no 11.00am Mass on Saturday mornings)
Sunday – 10.00am & 12.00 noon Mass
All Masses broadcast on 98.5FM
Social distancing is to be observed.
Hand sanitizers should be used on entry and exiting the Church.
Face masks should be worn in the Church, where possible.
__________________________________________________
The Parish Office
The Parish Office is open each day from 10.00 am – 1.00 pm and 2.00 pm – 4.30 p.m.
For Information on Baptisms please contact the Parish Office.
___________________________________________________
Announcements at this Weekend's Masses, June 25/26, 2022
Today is the Thirteenth Sunday in Ordinary Time. Year C.  Welcome and welcome to everyone who joins us on 98.5FM.
The newsletter for June is available in the church and porches. It is totally dedicated to the Eucharist. It gives quotations on the Eucharist from saints and popes and church documents.
Rally for Life, Dublin City Centre on Saturday next, 2nd July. There are leaflets around the church and in the porches. There is also a contact number for Dungarvan: 087-7838023 which is also on the leaflets.
Wednesday, 29th June is the Feast of SS Peter and Paul. This feast honours St. Peter, the first of the apostles and the first pope and St. Paul, the first great missionary. St. Peter originally called Simon, a fisherman whom Jesus called to be the first of the apostles. Died by crucifixion in Rome about 64 AD. Paul, a pharisee became the apostle to the non-Jews, the Gentiles. Died by beheading about 67 AD.
Friday, 1st July is the Feast of St. Oliver Plunkett. He was born at Loughcrew near Oldcastle, Co. Meath. Ordained to the priesthood in Rome in 1654. Consecrated Archbishop of Armagh in 1669. Arrested in Dublin in 1680. Transferred to London later that year. Trial began on June 8th, 1681. Sentenced to death a week later and martyred on July 1st, 1681. Named a saint of the Church on October 12th, 1975.
Next Friday is the First Friday of the Month. During this week the priests of the parish will visit the sick and housebound. If you know an elderly, housebound neighbour, relative or friend who is unable to attend Mass and would like one of the priests to visit on First Fridays or at some other time, please let us know. Please confirm with them that they would like a visit before contacting the parish office at 058-42374.
The annual Peter's Pence Collection for the Pope and the Various Needs of the Diocese is taken up here in St. Mary's this weekend as a Second Collection. There is a special envelope for the Pope and Diocesan Purposes in your box of envelopes or you may use your own envelope with your name and the name of the collection on it.
These announcements may be read on the parish website: www.dungarvanparish.ie
___________________________________________________
24th June: Feast of the Sacred Heart of Jesus
Friday, June 24th is the Feast of the Most Sacred Heart of Jesus. The novena to the Sacred Heart begins on Thursday, June 16th. Novena leaflets are available at the Sacred Heart Statue and around the church. The novena begins this Thursday, June 16th.
Novena Prayer:
Lord Jesus Christ, your heart was moved with love for those who came for help in their need. You healed the sick. You fed the hungry. You forgave sinners. You cried over Jerusalem. Above all. You showed to those who were prepared to listen the way to true life, for you are the Way, the Truth and the Life.
Lord, your heart is still moved today by your people and their many needs. Open my heart to hear your word, to accept your love, and to respond to your call. In particular, I beg you to grant me the favour I ask during this novena (make your request silently), provided that it will contribute to my own eternal good and to the building up of your kingdom of love, peace and justice here on earth.
Most Sacred Heart of Jesus, I place all my trust in you.
_____________________________________________________________________
Prayers
Exam Student's Prayer
Lord, as I prepare to study (sit my exam)
Send your Holy Spirit to guide me.
Keep me calm. Help me to do the best I can.
Give me peace, understanding and wisdom.
Be with me today and always. Amen.
Prayer for Students at Exam Time
Everlasting God, pour out your Spirit of Wisdom on students.
R/ Give them your blessing.
Help them to remain calm and to attend carefully to the questions asked. R/
Help them to think clearly, to remember accurately, and to express themselves well. R/
May they reflect the best of the work they have done, and the best of the teaching they have received. R/
May your love be upon them, O Lord, as they place all their trust in you. R/
Prayer During the Pandemic
Almighty and all loving God,
Father, Son, and Holy Spirit
We pray to you through Christ the Healer.
For those who suffer from Covid-19 in Ireland and across the world.
We pray for those who mourn the loss of loved ones who have died as a result of contracting this disease.
Give wisdom to our government leaders, skill to healthcare workers and researchers.
Comfort to all in distress and a sense of calm to all of us in these days of uncertainty.
Keep us and our loved ones safe from this virus.
Through Our Lord Jesus Christ, who showed compassion to the outcast, acceptance to the rejected and love to those to whom no love was shown. Amen.
Pope Francis' Prayer to Our Lady
O Mary,
You shine continuously on our journey
as a sign of salvation and hope.
We entrust ourselves to you, Health of the Sick,
who, at the foot of the cross,
were united with Jesus' suffering,
and persevered in your faith.
"Protectress of the Roman people",
you know our needs,
and we know that you will provide,
so that, as at Cana in Galilee,
joy and celebration may return
after this time of trial.
Help us, Mother of Divine Love,
to conform ourselves to the will of the Father
and to do what Jesus tells us.
For he took upon himself our suffering,
and burdened himself with our sorrows
to bring us, through the cross,
to the joy of the Resurrection. Amen.
We fly to your protection, O Holy Mother of God;
Do not despise our petitions in our necessities, but deliver us always
from every danger, O Glorious and Blessed Virgin.