St. Mary's Parish Church Dungarvan
PLEASE NOTE: The Parish Church is open for the celebration of public Masses and Masses continue to be broadcast on 98.5FM.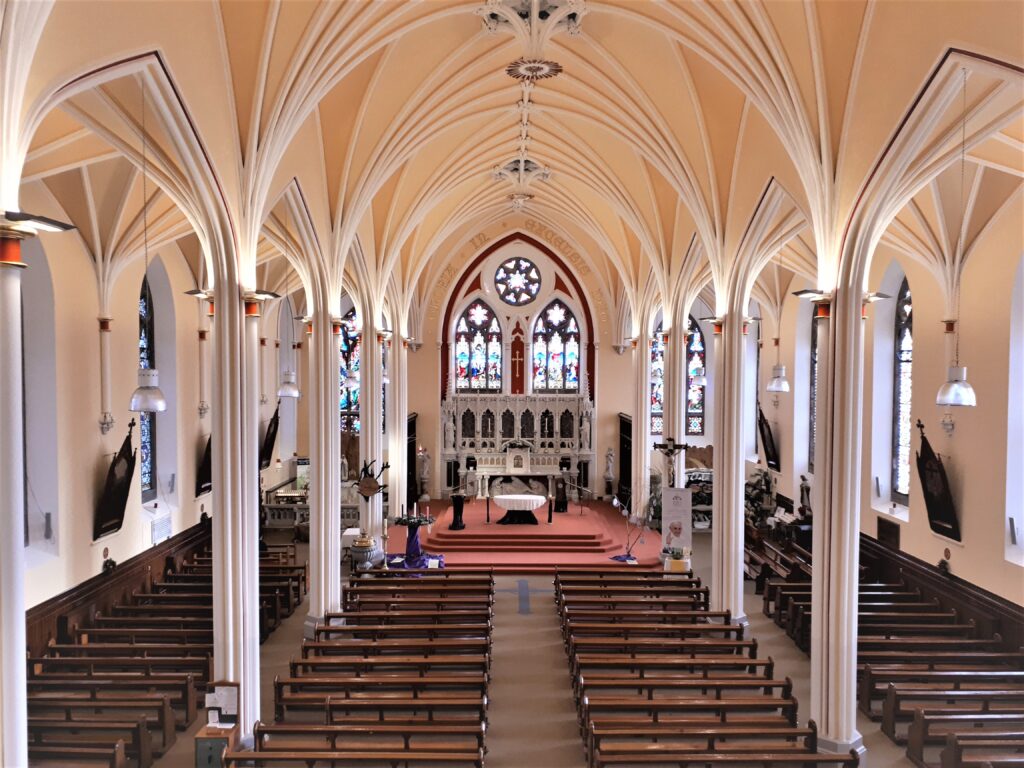 Mass Times
Monday to Friday – 9.30am Mass (No 9.30am Mass on Mondays during the Novena)
Saturday – 7.30pm Vigil Mass (Please note: There will be no 11.00am Mass on Saturday mornings)
Sunday – 10.00am & 12.00 noon Mass
All Masses broadcast on 98.5FM
Hand sanitizers should be used on entry and exiting the Church.
__________________________________________________
The Parish Office
The Parish Office is open each day from 9.00 am – 1.00 pm and 2.00 pm – 4.30 p.m.
For Information on Baptisms please contact the Parish Office.
___________________________________________________
Announcements before this Weekend's Masses, September 16/17, 2023
Today we celebrate the Twenty-Fourth Sunday in Ordinary Time, Year A. Welcome and welcome to everyone who joins us by radio on 98.5FM.
On Thursday next, September 21st, we celebrate the Feast of St. Matthew, one of the apostles and gospel writers. On Saturday, the 23rd, we remember Padre Pio/ St. Pio of Pietrelcina.
Art for Vocations. Calling all artists. Wednesday, Oct. 18th Portlaoise Parish Centre. Information on posters around the church and on noticeboards.
The newsletter for September 2023 is available in the church and porches. It has information on World Youth Day (WYD) 2023 which was held in Lisbon Portugal. Pope Francis attended from August 2nd – 6th. A number of excerpts from Pope Francis' talks and homilies at World Youth Day are included in the newsletter. Please take a newsletter for a friend or neighbour who would like to receive it.
The novena to Our Mother of Perpetual Help continues this Monday, Sept. 18th at 7.30pm and each Monday until Monday 30th October. No 9.30am Mass on Mondays during the novena. The September newsletter includes the text of the Novena Prayer for those listening at home and joining in the novena.
The Autumn Collection for the support of the priests of the parish will be taken up at all Masses this weekend, 16th/17th September. The weekly collection and the special collection autumn collection envelope (white) in the box of envelopes will go to the Diocesan Clergy Common Fund.
These announcements may be read on the parish website: www.dungarvanparish.ie
Parish notes are included each week in the two local newspapers.
___________________________________________________
Newspaper Notes, 18th September 2023
The Novena to Our Mother of Perpetual Help
This novena continues until Monday, 30th at 7.30pm each Monday. No 9.30am Mass on Mondays during the novena. The Prayer for Healing which is prayed at each novena Mass is included this week for those who join us at home.
Prayer for Healing
O Jesus, we believe in you, we hope in you, and we love you.
Strengthen our faith, renew our hope and love, and grant our prayers.
Touch with your healing love, O Lord,
all who feel the hurt of life's wounds.
Long ago, when people prayed to you for healing, you listened to them, blessed them and answered their prayer.
Heal us now of our sinfulness and of the hatred that divides us.
Take away our hardness of heart.
Open our eyes which are so often blind to the needs of others.
Remove our selfishness and our greed.
Give us self-control at all times and fill our hearts with your eternal love.
O Jesus, we ask you now to heal and bless us, and fill us with your peace. Amen.
Art for Vocations
Calling all artists. Wednesday, Oct. 18th Portlaoise Parish Centre. Information on posters around the church and on noticeboards.
Autumn Collection
Please continue to return your Autumn Collection envelopes for the support of the priests of the parish. This is one of the four collections each year for the support of the priests. We rely on the generosity of the people of the parishes of the diocese. Thank You.
Parish of Kilgobinet – Colligan – Kilbrien
The Vigil Mass next Saturday, 23rd September will be celebrated in Colligan Church at 7.30pm.
___________________________________________________
Prayers
Prayer During the Pandemic
Almighty and all loving God,
Father, Son, and Holy Spirit
We pray to you through Christ the Healer.
For those who suffer from Covid-19 in Ireland and across the world.
We pray for those who mourn the loss of loved ones who have died as a result of contracting this disease.
Give wisdom to our government leaders, skill to healthcare workers and researchers.
Comfort to all in distress and a sense of calm to all of us in these days of uncertainty.
Keep us and our loved ones safe from this virus.
Through Our Lord Jesus Christ, who showed compassion to the outcast, acceptance to the rejected and love to those to whom no love was shown. Amen.
Pope Francis' Prayer to Our Lady
O Mary,
You shine continuously on our journey
as a sign of salvation and hope.
We entrust ourselves to you, Health of the Sick,
who, at the foot of the cross,
were united with Jesus' suffering,
and persevered in your faith.
"Protectress of the Roman people",
you know our needs,
and we know that you will provide,
so that, as at Cana in Galilee,
joy and celebration may return
after this time of trial.
Help us, Mother of Divine Love,
to conform ourselves to the will of the Father
and to do what Jesus tells us.
For he took upon himself our suffering,
and burdened himself with our sorrows
to bring us, through the cross,
to the joy of the Resurrection. Amen.
We fly to your protection, O Holy Mother of God;
Do not despise our petitions in our necessities, but deliver us always
from every danger, O Glorious and Blessed Virgin.